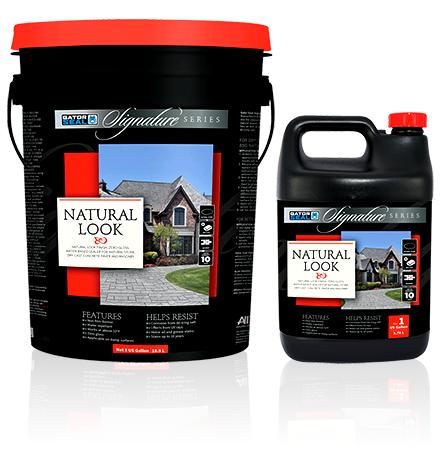 FOR NATURAL Gemstones:
ALWAYS TEST the merchandise on the small hidden section of roughly 4 sq. foot. (.4 sq. m.) to guarantee the results will come across your expectations.
Remove all of the stains in the natural gemstones, using Gator Clean products. Use Gator Clean Sealer Stripper to get rid of any unknown coating that continues to be around the gemstone surface.

Remove all contaminated jointing material and replace Gator Polymeric Sand. Do as instructed on the rear of the baggage for correct sand installation.
Wait a minimum of 48 hrs at least temperature of 40°F (4°C) with no rain for that Gator Polymeric Sand to correctly harden.
Clean the whole surface using the Gator Efflorescence Cleaner. The product will take away the efflorescence held in natural stone pores in addition to completely clean the top for correct sealer adhesion.
Wait a minimum of 48 hrs at least temperature of 40°F (4°C) with no rain therefore the sand & gemstone surface are dry.
Apply one (1) coat of Signature Series Gemstone Sealer utilizing a sprayer. Apply in 60 sq. foot. (5.6 sq. m.) sections at any given time. Make use of a foam roller or squeegee to get rid of excess sealer in the surface. Allow remaining sealer to enter 5-ten minutes. Wipe and take away any excess sealer with clean, dry, lint-free cotton cloths.
Signature Series Gemstone Sealer is water repellant, rain safe, after 24 hrs.
Allow the sealer dry for twenty-four hrs before while using sealed area.
Please Be Aware:
Natural gemstones must only be sealed two months after their installation date. Consult gemstone manufacturer's for his or her recommendation.
Natural gemstones and jointing sand Should be 100% dry.
Temperature ought to be between 40°F (4°C) and 85°F (29°C) when sealer is used.
Gemstone surface should be awesome to touch when sealer is used (between 40°F (4°C) and 85°F (29°C)).
First clean natural gemstones with Gator Clean products. Remove all oil, grease and rust stains.
Use Gator Efflorescence Cleaner to get rid of any trapped efflorescence. Additionally, it completely cleans the top to make sure an effective sealer adhesion.
Use only one (1) layer of sealer.
When utilizing Signature Series Gemstone Sealer, assure yourself a minimum of 48 hrs of dry conditions just before using the sealer.
Particularly formulated for use on unsealed surfaces only. Cannot be utilized for a resealer.
Put on protective mitts, eye protection and respiratory system protection.
Coating Category: Waterproofing Concrete/Masonry Sealers. VOC Concentration Limits: <100 g/L (grams of VOC per liter of coating, less water and less exempt compounds). SCAQMD compliant.
Resourse: http://alliancegator.com/products/signature-series/signature-series-natural-stone/