The biggest from the three Cambridge Pre-Packaged Hearth Kits, the Olde British Wall Hearth is the best package for extending your outside living area. Filled with six pallets of Olde British Wall, six concrete lintels along with a top quality Lennox™ stainless hearth, additionally, it features stainless curtain pull screens, a stainless-steel fire grate, a 4-feet high, air-cooled chimney and black powder coated termination cap filled with galvanized flashing. Also standard are refractory brick panels within the firebox and five 8" x 8" polished granite tiles for that face around the front from the unit. Although shipped like a wood burning unit, it could also be transformed into gas. See instructions. Prepared to Install… simply no cutting necessary. Step-by-Step instructions in British and Spanish are incorporated.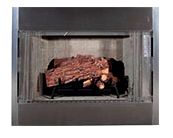 Optional Gas Insert
24" Wide Stainless Double Burner
Fits All 41" Fireboxes
80K BTU
Refractory Cement Red Oak Log Set & Lava Rock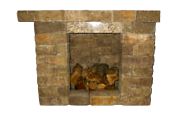 Optional Fire wood Box
Extension Package
Dimensions: 8′ 8" High &middot 6′ 8" Wide &middot 4′ 4" Deep
Firebox Dimensions: 20 3/16" High &middot 36" Wide &middot 20 1/4" Deep
Sahara/Chestnut Proven
Firebox Dimensions:
36" High &middot 44" Wide &middot 32" Deep
Sahara/Chestnut Proven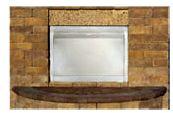 Optional Hearth Cover
A stainless-steel hearth opening
cover (proven) prevents creatures, dirt
and debris from being able to access the hearth
opening once the hearth is not being used.
Inserts easily.
The surrounds are constructed with Architectural Cast Stone, that has the feel of gemstone. The Surround consists of
highly refined precast concrete mixing the best recycleables using probably the most advanced manufacturing
technologies available.
Resourse: http://cambridgepavers.com/cfiles/
Cambridge Fully Assembled Fireplace