Navigation article: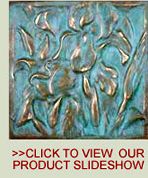 Upstairs Downstairs showcases among the finest different amounts of tile from around the globe. We provide hand crafted and handglazed artisan tiles that are created in small studios over the U . s . States. Wrinkles offer unique and spectacular glazes that are custom purchased for the projects.
The majority of our partners take part in eco-friendly initiatives…creative solar and recycling techniques which keep our world healthy. Our studios fires its kilns with wood remains from local woodworking firms. Another studio uses damaged glass from soccer practice bus home windows to create incredible decorative tiles.
We provide many exclusive lines including Master Zanger, Artistic Tile, and
New Ravenna. Our customers are amazed with this selections.
We use a number of materials, each using its own characteristics, applications, and care needs. For general details about each kind of fabric, browse the articles here. Return frequently, once we update their email list and also the content periodically.
Ceramic
Porcelain
Granite
Glass
Slate
STONE
Our choice of gemstone includes exotics from premier suppliers. We provide onyx, marble, limestone, granite and slate. Most can be found in tiles, mosaics and slabs. Many gemstones can be found in incredible custom laser-cut patterns for floors and walls.
SETTING MATERIALS
We stock TEC thinsets, grouts and caulkings. Our stone maintenance systems are created by HMK Stonecare and therefore are what we should believe is the best available on the market. You does not need to reseal your stone products semi-yearly…most floors won't ever have to be resealed. Request our suggested sealers and cleaning procedures whenever you visit our showroom.
Resourse: http://updowntile.com/
Kitchen and Bathroom Tile and Style | OMG We Bought A House!
Video COMMENTS:
Gina DeSanto: I want to be an interior designer and you are such a inspiration to me ❤️❤️❤️❤️
Jessica Ralson: and then there's my house….
Eduarda Pereira: HOW DON'T YOU GUYS HAVE TEN MILLION SUBSCRIBERS ALREADY
Simran Toor: Omg when Kate pushed the salesman in the tile shop 😂
Kat Marie: HAHA THIS MADE ME LAUGH SO MUCH! You guys are so cool. Love this!
Jenevie Chan: LMAO, the way Kate acts is how I act all the time.
Sarah Khaled: So happy the show is back!!!!
Mary Buck: Beautiful!! Can't wait to see the final product– but truly love watching the process also!! Btw… Would so much rather watch this on HGTV than endless reruns of Fixer Upper or whatever. How hasn't this happened?!
Jacy Taylor: I'm addicted to this channel love you guys
Vanta Black: The "english" pattern is originaly a andalusian pattern from islamic area in spain… It's the architecture of amazigh people from north africa…